I have been knitting up a storm around here (in a good way – although is there ever a bad way to knit up a storm?) and have really been so busy with so many different things going on that I haven't had the time to come in a properly start a post. What a worthless excuse, but there it is!
First and foremost, I do need to say that as it is the not-so-New Year, I do have some resolutions that should be listed for propriety's sake.
1. Knit more colorwork – seriously, I really feel like this is one area I'm desperately lacking. I've done two colorwork patterns in my life and neither or them I'm in love with nor use that often. This needs to be remedied. Soon. And, since I'm a sucker for punishment I just might do these socks as a first project for this. Am I crazy or what? Most definitely, I'm sure.
2. Knit more sweaters – This one is obvious – at least to me. I've done exactly two adult-sized sweaters and really should get cracking on more. I've remedied this by starting out with again another crazy project. I'm currently doing Swing (rav link) from South Seas Knitting and must be insane in that I'm *modifying* it to work as a DK weight… have I mentioned I'm not a proficient sweater knitter yet? Well, you might spend the next post on here reading all about my failures in this respect, but I'm going to remain optimistic for the reason mentioned in the first resolution.
3. 10 shawls in 2010 – I'm completely and 100% sure I can do this. So I'm hoping to do 20 in 2010…. will this be feasible? Hmmm…. dunno. But I sure as hell will try! I wear the shawls I've made all the time, so I know for a fact they won't go to waste. Plus, they can always be given as gifts to others! Not too too worried about this, but we'll see.
4. Learn entrelac – Not hard, necessarily, but something I have yet to do. In addition I'd like to learn how to knit backwards to make entrelac easier. This I think is my easiest goal but also the one I can see myself not accomplishing due to the fact that I'm way too lazy and a horrible procrastinator… but maybe the sight of these gloves (rav link) (which I've been dying to make) will prompt me to go through with this resolution sooner rather than later.
And that's that. Not too bad, no? I will try to update you all on my resolution progress as the year goes by! In fact, I have started out with two of those resolutions – the first is the Swing jacket that I've started and will share a WIP pic with you next time, and the second is my 1020 shawls in 2010:
That is the Theory Shawlette made in Malabrigo Yarn Silky Merino. It's a gorgeous yarn and a beautiful pattern. I love how it came out though I wound up with more of a scarf than a shawlette, mostly due to the fact that I had a very hard time blocking this shawl! I am usually a pretty proficient blocker (if I do say so myself) but this one was really pissing me off! If I pulled hard on the width it caused the pretty edging circles to pucker and look distorted. If I didn't pull hard, they scrunched in on themselves! And I would have had to use a million pins to keep those circles nice and straight (I even tried it with wires and either I'm a complete idiot or it was just too difficult for me – couldn't figure out an easy and proficient way to pin this out). So I didn't bother. I blocked it lenght-wise and then just pulled on it with my fingers every now and then to make the width a little longer. In either case, I wound up with a longer and skinnier shawl than I intended. But that's okay… it still makes for a gorgeous scarf! 🙂
Pattern – Theory Shawlette by Jennifer Lang (rav link | project link)
Yarn – Malabrigo Yarn Silky Merino in Cape Cod Grey (rav link | store I used)
Needle – US8 (5mm)
Cast on – January 15, 2010
Cast off – January 21, 2010
Modifications – None
This wasn't in fact my first FO of the year, but I think I will save those for another post. 🙂
Before I head off, however, I am *so* happy to report that my last entry on Australia was picked by the all-mighty editors as a Freshly Pressed post! It made it onto the front page on WordPress.com as you can see on this screen shot here: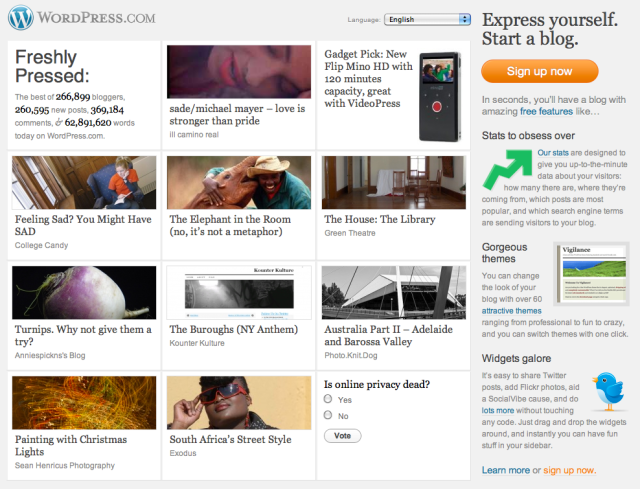 This pretty much made my day that day (not to mention upping my viewership 10x from the average that day), so thank you so much to the editor who decided that my travels were worthy and to every one of my readers for keeping me writing. You are all beyond awesome! I promise, I'm not crying over here… at least not that much. 😉